Every year, more than
4 mio. tonnes of sucrose
are used in dairy products worldwide.
(Euromonitor, 2021)
Worldwide, more than
69,000 new products
from 2017 to 2020.
(Innova, 2021)
In Western Europe,
904,000 tonnes of sweeteners
were used in 2020.
(Euromonitor, 2021)
Your challenges – our solutions
Sweet and without calories
A low-calorie dairy product without any off-flavour? Thanks to allulose, this works without any issues. With 0.2-0.4 kcal/g, simple sugars have less than a tenth of the calories of sucrose (4 kcal/g). Unlike table sugar, allulose, therefore, does not provide the body with any energy. It cannot be metabolized. The calorific value of the entire product can thus be significantly reduced by using allulose. One advantage of allulose compared to sugar alternatives is that, in contrast to sweeteners or sugar alcohols, it tastes sugar-typical. Thus, the end products have no off-flavour but can convince with their full taste.
You can find more information about allulose, such as the glycaemic index, here.
Low in calories and body-giving?
In dairy products, sugar often has a body-giving function: it ensures their appropriate consistency. Allulose also has this characteristic – with 0.2-0.4 kcal/g it is low in calories but can be used as simple sugar in similar ways to household sugar. It also scores with another feature: Allulose lowers the melting point of the finished product. This is particularly attractive with ice cream, as the allulose makes the finished product creamy and ensures a soft, pleasant mouthfeel and a good melt.
Read more about the technical characteristics of allulose on this page.
Clean Labelling
The length of the list of ingredients is becoming more and more important to consumers; The shorter and "cleaner", the better. The calorie content also plays a role for many. This poses a challenge for the manufacturer – can there be calorie-free products without additives? This is often difficult to implement in practice. Low-calorie sugar alternatives such as erythritol and xylitol must be labelled on the packaging. There are also possible fillers since many sweeteners lack body-giving properties, which is an important feature so that the end product has the right consistency. Allulose, therefore, has two major advantages: As a sugar alternative, it brings body into the product, like sucrose. And: Allulose is not an additive, but a food. It is currently in the process of being approved as a novel food.
Would you like to find out more about allulose? Please find further information here.
Our solutions – your benefits
ALLULOSE
Your contact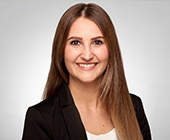 Larissa Wirtz
// Sales //
Larissa.Wirtz@Savanna-Ingredients.com
Photo credits
Header: © Adobe Stock / sveta
Content (top to bottom): © iStock / mpessaris, VladimirSretenovic, artisteer